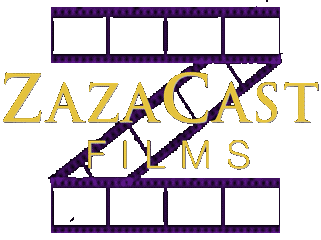 Independent Films for Independent Minds
Founded in 2008 as a creative outlet, ZazaCast Films was one manís vision for the future of independent film. Having worked with video, audio and interactive multimedia since the early 90's, it was time to focus on the art of filmmaking. With the advent of affordable HD technologies and software, creating quality films are no longer exclusive to those with deep pockets (although that never hurt a production). Gone are the days of shooting 8mm & 16mm film, sending it off for processing...and hoping you got the images you set out to capture. Like it or not, we are living in a YouTube-Facebook-Twitter world and we all have a hugh audience at our disposal.
As an independent filmmaker, it is my goal to work at refining my skills as a storyteller, shoot beautiful images, edit in a style that compliments the film, score, sound design, color correct and release that product out into the world... with the hope that it will touch and entertain. Some films will be a success and others my not, but I promise to stay true to my mission statement, "Independent Films for Independent Minds" and let you be the judge.
ZazaCast Films will be producing many films over the years to come. If you're a screenwriter or storyteller and think you're on to something interesting, please contact us as our eyes and ears are always open! In the meantime, be sure to visit the films page, sit back and enjoy a few flicks!
Be sure to checkout "iZaza", the new iPhone / iTouch app that lets you view ZazaCast content on the go!

home · films · posters · contact us